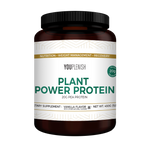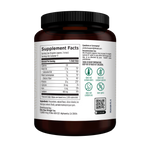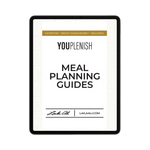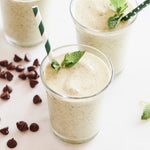 Plant Power Protein - Vanilla
Amazingly Delicious Vanilla Vegan Protein!
Plant Power Protein is smooth, creamy and delicious! Fuel your body with a true vegan protein, sourced from non-GMO, North American grown yellow peas. YouPlenish protein contains zero sugar, plus is excellent for weight management, building lean muscle, and workout recovery!
This soy-free, plant-based protein contains 20 grams of digestible protein per serving... which gets you better results!
Bonus: FREE Downloadable Meal Planning Guide ($20 Value)
15 Servings
Description
Why Buy YouPlenish?
Guarantee
Convenient, healthy, on-the-go nutrition for men, women, and kids!
Simply mix with water or milk in a shaker cup or add to your favorite smoothie recipe and blend!
TIP: Add a scoop to your healthy cookie, muffin and brownie recipes for extra protein and nutrition!
Plant Power Protein, a natural pea protein isolate, offers a high level of functionality and nutritional benefits. Plant Power Protein is a true vegan protein which has high bioavailability and excellent digestibility.
The raw materials, North American grown yellow peas, are not genetically modified (non-GMO) and are produced with a natural fermentation process which uses no chemical solvents.
Plant Power Protein contains no sucrose, fructose, or artificial flavors/sweeteners. It is flavored with natural flavor and stevia leaf extract.
Made with non-GMO ingredients.
Ideal for athletes, vegetarians/vegans, and those sensitive to whey!
Easy to absorb - Pea protein does not contain anti-nutritional factors such as phytates and tannins that are found in soy which can inhibit the absorption of minerals including iron, zinc, and calcium. Vegan diets are also known to be high in phytates.
Soy-Free - Soy is known to have estrogenic effects that are not always desired. Pea protein contains low levels of isoflavones (estrogen-like compounds), minimizing possible estrogenic effects.
Contains a well-balanced amino acid profile, close to that of whey protein - Plant Power Protein's excellent array of these protein building blocks, including high levels of BCAAs (branched chain amino acids), makes it a great protein source for athletes and anyone who is physically active. Plant Power Protein is excellent to use before, during, and after exercise, as an adequate intake of protein (in particular BCAAs) supports healthy muscles, particularly after strenuous resistance training.
DELICIOUS AND EASY TO DIGEST - This natural plant protein isolate is a true vegan protein, which has high bioavailability and tolerability. Comes in delicious chocolate and vanilla flavor.*
LOW ALLERGEN - Plant protein is a safe alternative for people with allergies to milk and milk products which must avoid casein or whey proteins, and for those with lactose intolerance. *
PURE PLANT SOURCE - The raw materials, North American grown yellow peas, are not genetically modified (non-GMO) and are produced with a natural fermentation process which uses no chemical solvents.*
HIGHER STANDARDS. BETTER RESULTS. - YouPlenish maintains a strict, no-compromises approach to quality raw material selection. We never cut corners with substandard ingredients. This product is Non-GMO, Gluten-Free, and Vegetarian-friendly.
*These statements have not been evaluated by the Food and Drug Administration. This product is not intended to diagnose.
YouPlenish Products are made with the highest quality ingredients. They are non-GMO, hormone-free, dairy-free, soy-free, gluten-free and free of fillers and harmful ingredients. If you're not 100% satisfied with your YouPlenish product, I'll refund your purchase. (Please see our return policy on the checkout page.)
YouPlenish is manufactured by a family-owned facility that produces high-quality pharmaceutical grade products. Therefore, YouPlenish supplements undergo third-party testing to ensure all of the ingredients on our labels are safe, pure, effective and consistent with what is actually inside the container.
Many supplements on the market are ineffective, and some are even unsafe! The truth is that most supplement companies do not undergo the same scrutiny and testing that pharmaceutical grade products do, because they are not required to do so. For this reason, most supplement companies do not take the extra steps to test their products to ensure safety and purity.
YouPlenish products are produced and distributed from NSF-registered facilities, as we recognize the importance of third-party validation of our Good Manufacturing Practices (GMPs).
NSF-registration provides assurance to consumers that YouPlenish products are manufactured and distributed from facilities following the highest standards of quality control and assurance.
My YouPlenish products give my body the extra nutrition it needs to perform at my best, maintain my weight and stay fit! I truly believe in these products and I would never promote anything I don't use myself!
~ Laila Ali